ARRL Los Angeles Section Manager Diana Feinberg, AI6DF, was the featured speaker at our February 3, 2021 membership meeting. Diana reported on the state of the League and reflected on how the pandemic has affected ham radio more generally.
After Diana's presentation, Jeff Liter, W2JCL, explained how to participate in a digital Winlink net.
Thirty minutes before the net:
Turn on your radio and your TNC or soundcard.
FOR PACKET: Start the software modem Soundmodem. Check that your computer's soundcard is set to "USB audio codec." Check your settings by tuning to the APRS national frequency of 144.390 MHz.
FOR VARA FM: Start VARA. Check that your comptuer's soundcard is set to "USB Audio codec." Check your settings by tuning to the SoCal VARA FM Autobahn at 145.030 MHz. Send a ping.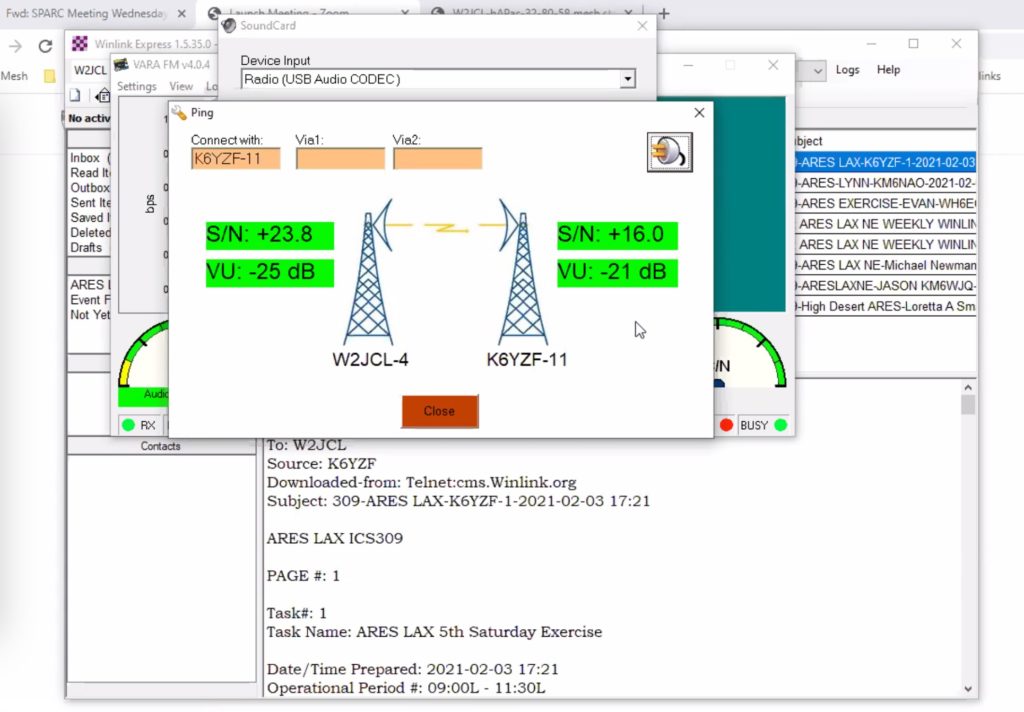 Tune to the frequency of the digital net exercise.
Open Winlink. You don't have to open and close Winlink session during the exercise, it's fine to set it up ahead of time.
Be sure to open the right kind of session: Peer to Peer or Gateway (use the switch button if necessary).
Select your template.
Fill it out.
Go back to Winlink and make sure the "Send As" is correct for your session.
Wait for net control to signal you to send.
Winlink can be an incredibly efficient means of communication. During a recent net, Jeff moved almost 100 Winlink peer-to-peer messages in under 2 hours.